Twice-Claimed Soul
Art by Remton
ĒShow me a problem with only two answers and Iíll show you a man who hasnít looked hard enough for a third.Ē
- Ash Stormfall, a twice-claimd soul
When a being is reborn as a Hellbred it knows only one nearly universal truth. It is damned. Itís soul will be doomed to the eternal fires of the Nine Hells, with an infinitesimal chance to escape such a grim fate. Only through the most incredible actions and deeds can it find redemption and acceptance into Celestia. This is a hard fact for anyone to live with, and is often why hellbred through themselves into whatever monumental task they can find. A small percentage, however, discover another means to escape the devilís claim. By devoting themselves utterly to ancient, forgotten powers a hellbred may open the door for a vestige to take residence in his soul. Eventually the vestige will have such influence that it can break the bonds that bind the hellbred to Baator, whisking itís champion be dwell with the vestige for all eternity.
Becoming a Twice-Claimed Soul
Even among hellbred, few choose this path. Only those that have some exposure to the aberrant art of binding even know of this third option available to them. Most twice-claimed souls are creatures that were not truly repentant, but merely looking for a way to escape the fate waiting them in the Nine Hells. Using their second chance to desperately find an alternative, actually finding an ďoutĒ is an incredible stroke of luck by their reckoning. Occasionally a truly repentant soul will follow this path out of despair or misguided belief it will still allow them to ascend to the Heavens, but that is extremely rare.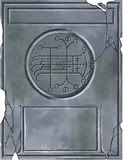 Entry Requirements
Race:
Hellbred
Skills:
Gather Information 5 ranks, Knowledge (the planes) 8 ranks
Special:
Soul Binding class feature, Pact Augmentation class feature
Skills points gained at each level:
4 + Intelligence modifier
Class Skills:
Bluff (Cha), Concentration (Con), Craft (Int), Decipher Script (Int), Diplomacy (Cha), Gather Information (Cha), Intimidate (Cha), Knowledge (arcana) (Int), Knowledge (history) (Int), Knowledge (religion) (Int), Knowledge (the planes) (Int), Profession (Wis), Sense Motive (Wis)
Hit Dice:
d8
| Level | Base Attack Bonus | Fort Save | Ref Save | Will Save | Special |
| --- | --- | --- | --- | --- | --- |
| 1 | +0 | +2 | +0 | +2 | Soul binding, patron vestige |
| 2 | +1 | +3 | +0 | +3 | Body and spirit |
| 3 | +2 | +3 | +1 | +3 | Resist hellís claim |
| 4 | +3 | +4 | +1 | +4 | Patronís shelter |
| 5 | +3 | +4 | +1 | +4 | Stolen vessel |
| 6 | +4 | +5 | +2 | +5 | Pact augmentation |
| 7 | +5 | +5 | +2 | +5 | Emergency revision |
| 8 | +6 | +6 | +2 | +6 | Patronís might |
| 9 | +6 | +6 | +3 | +6 | Powerful augmentation |
| 10 | +7 | +7 | +3 | +7 | Cheat the nine hells |
Weapon Proficiencies
A twice-claimed soul gains no additional weapon or armor proficiencies.
Soul Binding
At each twice-claimed soul level, your soul binding ability improves as if you had also gained a level in the binder class. Thus, your twice-claimed soul levels and binder levels stack for the purpose of determining your bonuses on binding checks, the effectiveness of your vestige-granted abilities, your ability to bind higher level vestiges, and the number of vestiges you can bind. You do not, however, gain any other benefit a binder would have gained.
Patron Vestige (Su)
Choose a vestige. This vestige becomes your patron vestige. You lose the Devilís Favor feat granted by the Devilís Favor racial ability and you gain the Favored Vestige feat, choosing your patron vestige. If you do not have the Devilís Favor feat for any reason this class feature does nothing.

If you choose a vestige that you are not normally able to bind, you can now contact that vestige and make a pact with it. However, as long as you do not otherwise qualify to bind the chosen vestige, you gain only one power from the vestige you bind, as given on the table below.
Body and Spirit
At 2nd level, a twice-claimed soul starts to feel the influence of its new master, his body slowly twisting and slipping from Hellís grasp.

If you chose the Body Infernal Aspect you lose the devil-touched feat gained at 4 hit dice, and gain the Favored Vestige Focus feat (choosing your patron vestige). Instead of gaining another devil-touched feat at 14 HD, you gain the Rapid Recovery feat (choosing your patron vestige).

If you chose the Spirit Infernal Aspect your Darkvision does not increase at 6 HD or 9 HD. Instead you gain a +1 bonus to to saves against mind affecting effects at 6 HD and an additional +1 bonus at 9 HD. At 12 HD instead of gaining the see in darkness ability you are treated as if under a constant nondetection effect (DC 15 + your HD). At 15 HD instead of gaining telepathy you become invisible to any telepathy-based abilities, such as mindsight. These bonuses and effects only function while your patron vestige is bound to you.
Resist Hellís Claim (Su)
At 3rd level your patron vestige begins to take steps to protect its new servant from the reaching claws of Baator. As long as your patron vestige is bound to you any bonuses gained from your Pact Augmentation ability, aside from the +5 hit points, is doubled against lawful and/or evil creature, and tripled against outsiders with the lawful and evil subtypes.
Patronís Shelter (Su)
At 4th level, as long as your patron vestige is bound to you, you may gain an insight bonus equal to your constitution modifier to your AC against a single attack or to a single saving throw as an immediate action. Once you use this ability, you cannot do so again for 5 rounds.
Stolen Vessel (Ex)
At 5th level you no longer need to summon your patron vestige every day; you are bound to it constantly. You cannot choose to bind a different vestige in itís place. However, you can still attempt a binding check each day to negate itís influence. In addition, the number of rounds you have to wait between using your patron vestigeís supernatural abilities is reduced by 1 round.
Pact Augmentation (Su)
At 6th level you may choose an additional ability from the Binderís Pact Augmentation list whenever you bind a vestige.
Emergency Revision (Su)
At 7th level, you may quickly change the benefits of the pacts you have made. Once per day as an immediate action you may change the abilities gained through your Pact Augmentation ability.
Patronís Might (Su)
At 8th level, as long as your patron vestige is bound to you, you may gain an insight bonus equal to your Charisma modifier to your attack and damage rolls for the round as a swift action. Once you use this ability, you cannot do so again for 5 rounds.
Powerful Augmentation (Su)
At 9th level, you gain additional options when you selects pact augmentations. You may spend two augments to gain Evasion, Mettle, Uncanny Dodge, or Trapfinding.
Cheat the Nine Hells (Ex)
At 10th level the vestige you have devoted yourself to has gained enough influence upon your soul to claim it for itself. If your patron vestige is bound to you when you die, your soul is no longer sent to Baator, but joins your patron in the realm beyond reality. You still require a resurrection spell or greater magic to be restored to life.

Additionally, as long as your patron vestige is bound to you are under the effects of Protection from Evil and Protection from Law.

If your patron vestige becomes expelled for any reason (like using the Expel Vestige feat), you suffer a morale penalty equal your patron vestigeís level to all rolls until it has been bound to you again for 1 hour. Furthermore, a devil with a CR equal to your ECL+2 will always appear near you within 10 minutes with the sole purpose of killing you, in an attempt to reclaim your soul for Baator.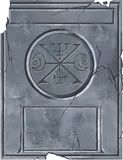 Playing a Twice-Claimed Soul
Twice-claimed souls are inherently versatile. Like the standard binder they start as, a twice-claimed soul gains most of his varying abilities from forging pacts with vestiges. His versatility is his greatest strength, as he will be able to adapt to nearly any situation.
Combat:
Twice-claimed souls can fill any role needed in combat situations, depending on their patron vestige and the other vestigeís they currently have bound. It is best, however, if they can play a supporting role to another character or two, augmenting their narrower focuses. Hellbred that follow this path tend to play more defensively that other binders, as their ultimate goal is to avoid their damnation; thus they wish to prolong their life at least until their patron can save their soul from the eternal flames.
Advancement:
Hellbred universally follow this path to its conclusion. Once they have attained their salvation they will often either continue to practice and strengthen their skill at pact-making, or they will follow more focused path, usually in the footsteps of their patron. Occasionally an exceptionally fearful twice-claimed soul will end his own life once he has achieved the proper bond with his patron, to guarantee that he will never taste the flames of hell.
Resources:
Twice-claimed souls have no special resources or groups to call upon. In fact, they are generally shunned by nearly everyone. They are naturally dark and intimidating, and they are cheating both Baator and Celestia with their attempts to escape their fate.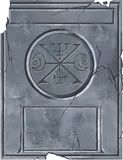 Twice-Claimed Souls in the World
ĒPitiful heretics. They begged forgiveness and were given a chance to right their misdeeds, and they repay that by trying to slither out of their responsibility worshiping the shadows of ghosts.Ē
- Tellar Hathin, Hellbred Paladin of St. Cuthbert
Twice-claimed souls are all about one thing, a single focus. Finding path that does not lead to eternal suffering. They may pursue other interests, but never at the expense of gaining a deeper bond with their patron. They are usually regarded as a standard binder, but for those that do know their speciality, they generally earn a special contempt or hatred.
Daily Life:
A twice-claimed soulís life isnít that much changed from a binderís. They tend to keep to themselves and avoid making a scene or being a person of interest if they can. Due to their appearance as a hellbred, and the dark rumors surrounding them, most are unwelcome in communities at best, and their desire for privay does them no favors. Perhaps the biggest difference is in how devils regard them. Devils know how unlikely it is for a hellbred to earn redemption, and are often confident that they will have the soul returned to them simply by waiting. A twice-claimed soul, however, has an actual chance of escape, something that devils cannot stand. The legions of Baator will often tke extra care in attempting to bring down a twice-claimed soul, spending special effort to ensure the soul they have claimed is not stolen by some dead and near-forgotten power. Most twice-claimed souls are very aware of this, and tend to avoid conflicts with anything hinting of the Nine Hellís influence, if they can avoid it.
Notables:
Few hellbred have ever left a lastin mark upon the world (at least in their current life), and most that have were the few that managed to gain the forgiveness that all hellbred seek. Among the hidden whispers of binder society, however, one can find tales of Ulik Fateless. The only known hellbred to cheat the Nine Hells of their claim on his soul, his devotion to Andromalius is both fitting and complete. Ulik is typically avoided, as it is wel known that the devils are
not
pleased, and often make attempts to cause Ulik to rejoin the ranks of the damned. So far he has slipped through their nets, often laughing as he does. It is rurmored that he has been spending his years evading Baatorís agents, while trying to find a way to slip from the very bonds of his patron that protect him. Only time will tell if he can cheat yet another mighty being of his soul, and truly earn the name Fateless. There are few that wager against him.
NPC Reaction
Binders are not well-liked. Hellbred are rarely received with warmth or hospitality. Combing the two, and adding the fact that they are fore-swearing their efforts to make amends and join the ranks of the heavenly...twice-claimed souls keep a low profile for very good reason. Even among the few that know more than ill-informed rumors bout binders or hellbred view twice-claimed souls with suspicion. The only places they find welcome are were few questions are asked, and people donít care about your past or intentions, only about your capbilities.
Twice-Claimed Souls in the Game
Players who want to play a twice-claimed soul will find them extremely able, filling nearly any role the party many need, if they have some time to prepare and make a pact with the right vestige. Their patron vestige will often give them a more specific focus, certain actions that they will tend towards. They will commonly take a more cautious, defensive approach to battle since they have a realistic escape in their sights.
The forces of Baator will often take special care to ensure that twice-claimed souls die before they attain their final level. Especially as they gain higher levels, twice-claimed souls will be hunted by devils and their agents, and bounties are common. While the hellbred certainly doesnít want to get caught he is also specially equipped to deal with his pursuers, and some may even wish to extract vengeance upon the plane that would otherwise claim him, starting their own crusade against the forces of Evil.
Adaptation:
If hellbred and binders exist in a setting, then the twice-claimed soul should fit in without any special adaptation.
Encounters:
Your players may encounter a twice-claimed soul as part of a mercenary band or thieves guild; a place where questions are dangerous, and a personís past less important than their day to day actions. Most are only interested in gaining power, and arenít hesitant to betray others if it will extend their lives and give them another chance to succeed. Players could even be hired by a more powerful twice-claimed soul, perhaps to find a special artifact, or hunt down a devil that had been hunting the hellbred.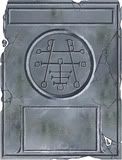 Sample Encounter
When you build an encounter incorporating a twice-claimed soul, the most important thing to remember is that hellbred following this path want to
live
. There are almost no circumstances where they should be willing to fight to the death, and should often have at least one excape route planned. Other than that, its important to decide what should be the patron vestige. The abilities of that vestige should in large part define what the twice-claimed soul is capable of and focuses on. For example, a hellbred that follows Andromalius may hunt down or police thieves and liars, while a hellbred devoted to Marchosias focuses on stealth and assassinations, often of rogue-like characters.
EL 13:
Born as a hellbred, Ash Stormfall has had only vague flashes of her past life and sins. Nearly all of them are centered around sneaking, theft, and killing innocents. At a loss of how to make up for the evils she had done and earn her way into Celestia, she quickly fell into depression, sure she was doomed.
Upon discovering the lost powers of dead gods in the vestiges, she began to wonder if there wasnít another way out of her predicament. As she furthered her research the story of Marchosias rung particularly true to her ears. She told herself it would be a way to help absolve her past life, but killing those she used to be, while in her heart she knew her true reasons were the same as they ever were, to murder and steal and improve.
Your players can easily encounter Ash as either a potential enemy or employer. She regularly takes on assassination jobs, and is extremely gifted at it, using her stealthy skills and invisibility to strike a devastating death attack, then fading to smoke and fleeing if there are others present. It the target survives she will bide her time until another opportunity presents its self; she avoids direct conflict where ever possible. If caught without an escape route, she has no problem with switching sides, offering knowledge or her skills to those that have caught her. She will attempt to escape when she is sure she can, though if reasonable she will still fulfill the promises she made (to retain goodwill, but not while in their power). She could also seek the party out, hoping to hire them for protection from a devil seeking to bring her soul back to hell, or to acquire some item or information that will further her own goal or mission.
Ash Stormfall
Female hellbred binder 5/twice-claimed soul 8
NE Medium humanoid
Init
+2,
Senses
: darkvision 30 ft., Listen +0, Spot +0
Languages
Common, Infernal
-----------------------------------------------
AC
16, touch 12, flat-footed 14
hp
75 (13 HD)
Fort
+11,
Ref
+5,
Will
+10; +2 on saves against mind affecting effects
------------------------------------------------
Speed
30 ft. (6 squares)
Melee
+2 dagger
+17/+12 (1d4+1/19-20) or
Melee
cold iron dagger
+15/+10 (1d4-1/19-20) or
Melee
silver dagger dagger
+15/+10 (1d4-2/19-20) or
Ranged
light crossbow
+14 (1d8/19-20)
Base Atk
+9/4,
Grp
+8
Atk Options
Death attack (DC 24), patronís might +6 once/5 rounds, patronís shelter +1 once/5 rounds
Special Actions
Emergency revision once/day, invisibility once/5 rounds (move action), smoke form once/4 rounds
Combat Gear
2 potions of cure moderate wounds
----------------------------------------------
Vestiges Typically Bound
(EBL 15th, binding check 1d20+21): Malphas, Marchosias
----------------------------------------------
Abilities
Str 8, Dex 14, Con 12, Int 13, Wis 10, Cha 22
SQ
Birdís eye viewing, fiery retribution, nondetection (DC 28), pact augmentation (+3 to attack rolls), patron vestige (Marchosias), poison use, resist hellís claim, silent and sure, soul binding (2 vestiges, 7th level), stolen vessel, sudden strike (+4d6), suppress sign
Feats
Favored Vestige (Marchosias), Favored Vestige Focus (Marchoias), Improved Binding, Stealthy, Sudden Ability Focus, Weapon Finesse, Weapon Focus (dagger)
Skills
Bluff +12, Diplomacy +20, Gather Information +22, Hide +20, Intimidate +16, Knowledge (the planes) +11, Move Silently +20, Sense Motive +18
Possessions
combat gear plus
+2 leather armor, +2 dagger, cold iron dagger, silver dagger, light crossbow
with 10 bolts/10 cold iron bolts/10 silver bolts, [i]cloak of charisma +2, gloves of dexterity +2, hat of disguise, lesser collar of umbral metamorphosis, ring of darkhidden, 53 gp
----------------------
I submitted this to the PrC contest 25, but sadly received no feedback. Hopefully giving it a thread will garner some responses!